PORT HARDY, B.C- A First Nations reserve on Vancouver Island's northern tip has adopted a new policy which could see members exiled for involvement in illegal activity.
A notice from the band government of Gwa'sala-'Nakwaxda'xw Nation, which is located near Port Hardy, detailed the move, stating that the Elder's Council, Youth Council, and the Chief and Council are "giving notice" to the community in the New Year.
"From this day forward, there will be no tolerance for dealers and bootleggers," the notice reads.
"You will immediately be banned from our community."
According to Katie Walkus, a communications specialist with Gwa'sala-'Nakwaxda'xw Nation, the policy was put together by all three councils for 2018. Walkus indicated that warnings were delivered around the community on Tuesday night in a march by the councils, as well as the housing committee.
"It's been an ongoing thing for many years, and most of our young kids have been affected," said Walkus.
"Now, it has been the young folks who have brought these names (of dealers and bootleggers) forward."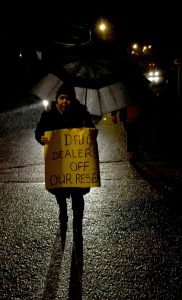 The warning letters were aimed at informing those suspected of illegal activity.
"Each council member from the Chief and Council, Elders Council, and Youth Council, they went directly to the door of the drug dealers and bootleggers, and handed them the warning notice," said Walkus.
"We have had a few negative comments on Facebook, but that's about it. We've actually had positive feedback from one of them, who has mentioned that he did stop."
As for what will happen to community members who run afoul of the policy, Walkus indicated they would be asked to leave permanently, though they would be allowed to collect their personal property before leaving.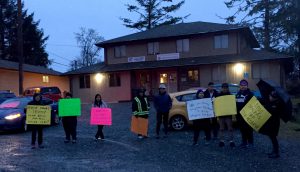 Walkus said the policy will be re-examined in the coming weeks.
"There will be a followup meeting in a week or two, to discuss what we're going to do (with enforcement)", said Walkus.
"At this point, we're not 100 per cent sure."
1240 AM The Coast will follow this story as it develops.