OTTAWA, ON- Cassie Sharpe has given Prime Minister Justin Trudeau a unique gift.
Sharpe comes from Comox and was one of four local athletes sent to the 2018 Winter Olympics. She was in Ottawa on Wednesday with the rest of Team Canada to be celebrated for the country's achievements during the games.
Sharpe took the gold in women's halfpipe skiing, and later added the FIS (International Ski Federation) World Cup to her list of achievements.
During the Ottawa visit, Sharpe presented the Prime Minister a customized pair of socks, decorated with her face. According to Sharpe, who detailed the presentation on her social media pages, she had been inspired by socks she had seen for sale.
"How many people get to say the Prime Minister of Canada has socks with their face on them..!?" wrote Sharpe.
"It all started when I walked past socks with Justin Trudeau's face on them in a Vancouver tourist shop a few weeks ago, I obviously had to buy them.. Then I decided it would be even more funny to give him socks with my face on them..! He was as personable and charismatic as everyone says! It was such an honour to meet our Prime Minister in our country's capital today. A day I won't soon forget."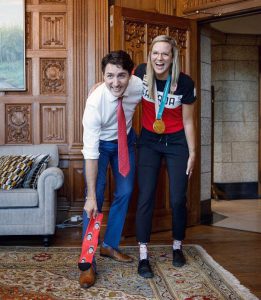 The other three athletes sent from the region were Campbell River's Teal Harle, Courtenay's Spencer O'Brien, and Comox's Carle Brenneman.