POWELL RIVER, B.C. – Drugs were found at a Powell River elementary school last Friday.
According to a letter sent out to parents by Westview Elementary School principal, Jamie Burt, the incident occurred on Friday, June 15.
An unconfirmed number of students ingested gummy bears that were infused with THC, an ingredient in marijuana.
The RCMP visited the school, and the Ministry for Children and Family Development was informed of the incident.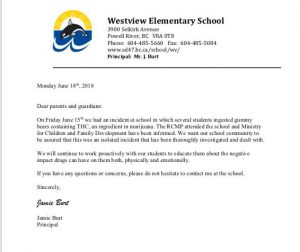 "We want our school community to be assured that this was an isolated incident that has been thoroughly investigated and dealt with," read the letter.
"We will continue to work proactively with our students to educate them about the negative impact drugs can have on them both, physically and emotionally."
The names of the students involved, or the grade they were in, have not been released.
The RCMP has been contacted for further comment.
Photo caption: The RCMP was called to Westview Elementary School on June 15, 2018. Photo courtesy Westview Elementary PAC on Facebook.