VANCOUVER ISLAND, B.C. – The man with aspirations on becoming Canada's next prime minister was in downtown Courtenay yesterday.
Prior to taking part in a Town Hall Q&A session in front of a packed room inside the Native Sons Hall, Federal Conservative leader Andrew Scheer called the MyComoxValleyNow.com newsroom to chat about what has been the worst wildfire season in B.C. history.
"Every season there's more expertise that's gathered, there's more knowledge about how to prevent and combat these fires, and the biggest role the federal government can play is ensuring that local responders have the resources they need and that there are plans in place supported by federal funding to deal with movements with large numbers of people," he said.
"And that small and regional detachments have as much equipment as they could possibly have to deal with these (wildfires) aggressively and early on in the season."
During Thursday night's Town Hall, the Leader of the Official Opposition answered questions about the controversial Trans Mountain Pipeline Expansion and changing the words to Canada's national anthem, among other topics.
On Aug. 30, the The Federal Court of Appeal overturned the federal government's approval of the pipeline expansion, prompting company shareholders to vote more than 99 percent in favour of selling the pipeline and expansion project to the federal government for $4.5 billion.
"This is one of the biggest scandals in Canadian history," Scheer said. "Watching it unfold in slow motion has been one of the most frustrating parts of my job. Conservatives were demanding that this government come up with a plan to get this built months before Kinder Morgan itself decided to abandon the project."
Scheer said "all eyes are on Trans Mountain because it's the last one left after this Liberal government cancelled Northern Gateway which had tremendous support with First Nations communities, with people in rural communities and remote communities that were going to benefit from it. A deep water port to get our products to Asian markets, getting off of the American discount that we're forced to take."
He said the federal Liberals killed Northern Gateway for "ideological reasons."
In March, Federal Green Party Leader Elizabeth May was arrested for protesting the Trans Mountain project expansion in Burnaby.
Scheer said May was arrested for protesting "exporting our natural resources that's extracted at the highest levels of environmental standards (and) labour standards. Profits going into Canadian pension plans, taxes going to fund schools, and healthcare, and roads. They get arrested blockading and protesting that."
He drew loud applause when he added, "I never once seen them up and down the St. Lawrence, blockading or protesting foreign oil coming into Canada."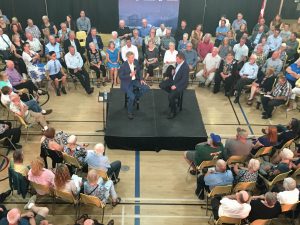 On changing the words of the Canadian National Anthem, in which the Senate voted to change "True patriot love in all of thy sons command" to "in all of us command," Scheer had this to say:
"I voted to preserve the original lyrics of O Canada," he said. "That anthem belongs to Canadians, it was a changed in a way (where) I don't believe many Canadians even knew it was happening until there was already a change. I don't think that was a respectful way to deal with that kind of an issue."