NORTHERN VANCOUVER ISLAND, B.C. – The generosity of Comox Valley and Powell River residents and businesses has overflowed in the form of little shoeboxes, packed with gifts and essentials earmarked for kids in developing countries.
The local Operation Christmas Child (OCC) collection drive is over, and more than 1,700 little red shoeboxes will be winging their way from the valley and Powell River to suffering children in the developing world.
Kara Walsh, logistics coordinator for the local campaign, noted that 1,391 shoeboxes were collected in the Comox Valley and 335 in Powell River, for a grand total of 1,726 packages.
Every year millions of shoebox gifts are filled with toys, school supplies, hygiene items, and articles of clothing by concerned people in Canada and nine other countries.
Samaritan's Purse, an international relief and development organization, collects and distributes them in 100 countries to children suffering as a result of war, poverty, famine, disease, and disaster. Each shoebox is given regardless of a child's gender, race, or religion.
Walsh was impressed by the response of those who took the time and effort to pack the shoeboxes.
"Just really happy with the response from the Comox Valley," Walsh said. "I think people are looking for different ways to give back during the Christmas season and I think people are becoming more aware of looking outside the box and wanting to give to charities."
She also believes the drives popularity is driven by the fact it involves children on both sides of the ledger.
"Because it is so kid-focused, a lot of families I find are getting their kids to fill the shoeboxes and it's really teaching them valuable lessons," Walsh said.
OCC marks its 25th anniversary this year and in the age of social media, the word is getting out about the charity drive more than ever before, in Walsh's opinion.
"I think that's helped people become more aware of the project," she added.
Walsh would like to remind people that while the local campaign is over, Operation Christmas Child shoeboxes may still be packed online by clicking here.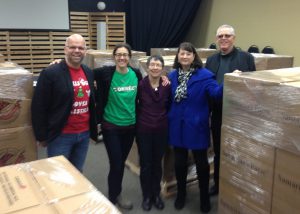 Huge hand from John's Bedroom Barn
The shoeboxes were delivered to a collection point in Nanaimo thanks to John Rogers, proprietor of John's Bedroom Barn in Courtenay, who donated his time (and a truck) to pick them up in communities from Campbell River to Duncan – including a side trip to Port Alberni.
From Nanaimo the shoeboxes travelled to a warehouse in Calgary, where they will be checked and prepared for distribution overseas.
This year, Canadian shoeboxes will be shared with children in Central America, West Africa, and the Ukraine.
In 2017, Canadians donated more than 600,000 shoeboxes.