After a 20-year career in politics, Powell River-Sunshine Coast MLA Nicholas Simons is calling it quits.
On Friday Premier David Eby posted on X, formerly known as Twitter, that Simons will be "hanging up his political gloves."
Eby says in his post that Simons "brought passion and enthusiasm" to the NDP caucus and government, and "got results for the people who elected him five times."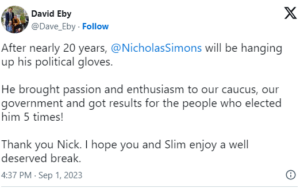 Simons was first elected to the Legislative Assembly in 2005 and won four consecutive elections. He is currently the NDP's caucus chair and previously served as Minister of Social Development and Poverty Reduction.
Eby's statement was unclear if Simons is resigning now, or if he intends to not seek re-election. We have reached out to Simons' constituency office for clarification.