POWELL RIVER, B.C- A report on building a fixed line to the Sunshine Coast has found the idea holds more financial cons than pros.
A look at the possibility of a link from the Lower Mainland to the region was asked for by the provincial Ministry of Transportation and Infrastructure in 2015, with the contract for the report given to R.F. Binnie and Associates in February of 2016.
The main goals of the report were to assess the costs and benefits of possible overland connections and examine fixed link scenarios, in contrast to the existing ferry service.
Through data collection, technical workshops, open houses, and community engagement, the report focused in on four connections. The first two linked to Powell River from the north, with the others focusing on a link to the Gibsons and Sechelt area.
The first southern option was the Langdale Road link, which would have connected Port Mellon to Highway 99, near Squamish. At an estimated cost of $2 to $2.5 billion, the 58 kilometre route would have required 40 structures to cross creeks and gullies, while replacing the Horseshoe Bay-Langdale ferry.
The second option for the south was a bridge link from Langdale, connecting Port Mellon to Highway 99 via Anvil Island. The total cost was estimated at $3 to 3.5 billion, with 36 kilometres of new roadway needed in difficult terrain.
The first option listed for the north was also the most expensive, with a road from Powell River to Highway 99 north of Brackendale. The route, listed as costing $4.5 to $5.0 billion, would have required 200 kilometres of new roadway, with five bridges and two tunnels. Ferry service on Route 3 and Route 7 would have been retained.
The second northern option, which would have been a bridge linking Earls Cove to Saltery Bay via Nelson Island, would have cost around $3 to $3.5 billion. While replacing ferry service, it would have needed 19 kilometres of new roadway.
All four of the options would have consisted of two lane main roads, with passing lanes on the steep sections. The posted speed would have been placed at 80 kilometres per hour, due to the makeup of the routes.
The report mentions that stakeholders and residents along five communities in the Sunshine Coast felt the survey was "long overdue", with the Langdale Bridge route receiving the most support.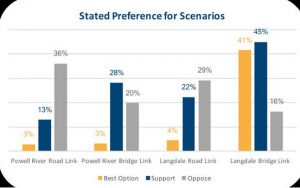 While all four options appear to be "technically feasible" the report finds all four would have "high capital costs", while none perform well on financial feasibility. Only the Langdale Bridge option had the option to achieve "some cost recovery" equivalent to the ferry tolls.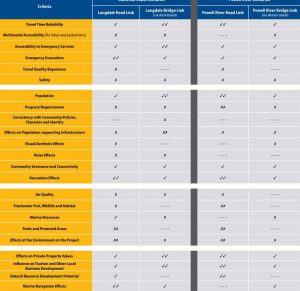 A final decision on a fixed link has not yet been made by the provincial government.