POWELL RIVER, B.C.- The Powell River Kings are saying goodbye to arguably one of the BCHL's most legendary coaches.
Kent Lewis has been relieved of his duties as Head Coach and General Manager of the team, after close to 25 years with the Kings. A release from the team said the decision was made by the Board of Directors at a recent meeting.
"We (the Board) just felt this course of action was in the best interests of the Powell River Kings moving forward," said Rob Villani, President of the Board.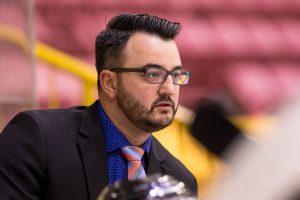 He noted that, "it was an incredibly difficult decision."
Lewis first joined the team as an Assistant Coach, then became the Head Coach and eventually added General Manager to his title.
In 2011, Lewis recorded his 500th win in the BCHL as a Head Coach with Powell River.
The releases stated that Lewis leaves behind a lasting legacy of player development and on-ice success for Powell River.
He was behind the bench for the team's seven Coastal Conference Championships. "The Kings would like to thank Lewis for his years of service to the organization, and wish him the best in his future endeavours," read the release.
Assistant Coach Brock Sawyer has been named Interim Head Coach. He will lead the charge in the team's next matchup against the Wenatchee Wild on Wednesday, Jan. 31st. Kyle Bodie will also stay on as an Assistant Coach.