COURTENAY, B.C. – Mount Washington has honoured a Comox Valley Olympic gold medallist.
One of the alpine resort's trails, Go for Gold, has been renamed Cassie's Gold for Comox native Cassie Sharpe.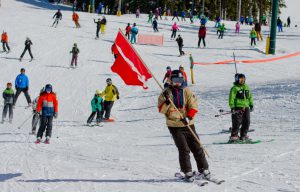 The 25-year-old addressed a large crowd during a weekend ski at the mountain on Saturday. She hosted a community ski run before the announcement, where more than a hundred skiers joined her.
"It's been really overwhelming in the best way possible, just having the love and the hugs and signing things for kids that are stoked on skiing and snowboarding, it's just been really humbling," she said, on her return to the Comox Valley.
During her speech, Sharpe shared some inspirational words for those in attendance.
"I feel like I had a lot of love for the sport, and I had a lot of love for what I was doing, and I think that when people told me that I couldn't do what I wanted to do, and couldn't push to win a gold medal, it was always just to do it anyways, push past the people that aren't supportive of your dream and just go out and do it," she said.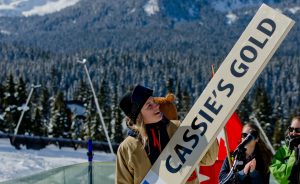 Sharpe had high praise for her fellow Vancouver Island Olympians, and was ecstatic to be able to give Mount Washington some extra, global exposure.
"I feel like me, Teal, Carle and Spencer we're all out there representing Mount Washington because you grow up in such a beautiful place and with so much love and support all around you, that it's hard not to talk about it," she said.
"Having Mount Washington and being able to talk about it and give the mountain some exposure that it deserves because it's an incredible hill, it was really nice."
Sharpe bested the competition in Pyeongchang, posted a score of 95.80 in her second of three runs during the women's freestyle ski halfpipe event to win gold.
Raised in Comox and growing up on the slopes of Mount Washington, Sharpe also thanked the Vancouver Island Mountain Sports Society.
"VIMSS helped me definitely go to contests and to push to be there, and allowed me to be at different contests, so having that option and being able to support young kids, the event that I did last night at Crown Isle, all the proceeds went to them (VIMSS) to support these younger kids coming up as well," she said.
The Vancouver Island Mountain Sports Society provides programs and services that enhance access to the mountain environment.
On her boosted fame, Sharpe said it's "super humbling being an icon and maybe that role model" for young kids.
She said she's feeling "pretty good" in regards to her career and did not rule out a potential return to the Winter games to defend her gold medal.
"As of right now, I feel pretty good, so maybe you'll see me back in Beijing in four years," she said.
Sharpe will be in France next week for the last World Cup of the season.
"I'm actually in the running to win the Crystal Globe, which is the overall athlete of that year, so if I go and do well, that's just another cherry on top of the Olympics," she said.
"I don't think you can top the experience at the Olympics, but I just love riding halfpipe, so going to another contest is actually a breath of fresh air."
-With files from James Wood