COURTENAY, B.C- One man is dead, following a fatal crash along Ryan Road on Tuesday evening.
According to Sergeant Brian Nightingale, an RCMP collision re-constructionist, the crash took place after the man attempted to head south along Ryan Road on a motorcycle around 4:30 p.m.
He had been traveling through the right-hand turning lane, and made a move into the through lane at the intersection of Ryan Road and Cowichan Avenue. A regional bus had been making a left hand turn onto Cowichan from the northbound lanes of Ryan at the same time.
Nightingale indicated the man went straight into the side of the bus.
"He had no escape route as soon as the bus made the left hand turn in front of him," said Nightingale.
"The indication was, because he's in the right turn lane, all the drivers were anticipating that he was making a right turn, and all of a sudden at the very last moment, he zipped over to the through lane, which basically left all the drivers unprepared for what he was trying to do."
The man deflected off the bus, and the bike landed in the ditch of the northbound lane. Emergency services rushed the man to hospital, with an air ambulance called in, but he died prior to being airlifted.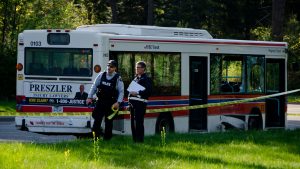 He was the only person taken to hospital from the scene.
While emergency services were dealing with the crash, another motorcycle accident took place in the Valley. While that incident did not have any major injuries, Nighingale had advice for motorcycle operators in the area.
"What they should be doing is following all the traffic laws, so that we can mitigate the injuries, and the degree of the injuries as well," said Nightingale.
"If they travel with traffic, they're not going to be involved in these type of collisions."
The entirety of the Ryan Road hill up to Lerwick Avenue was closed while the accident was investigated.
The deceased man's name, age, and place of residence were not released by police.