POWELL RIVER, B.C. – New marine habitat is set to be created in the waters off Powell River, thanks to a new project starting later this month.
On June 23, the YOGN-82 vessel is going to be sunken into the water to be used as an artificial reef. The project is a joint venture by the Artificial Reef Society of BC (ARSBC) and Catalyst Paper.
The YOGN-82 is the first of four surplus vessels that will be used to create an artificial reef.
According to a post on the ARSBC's Facebook page, all of the breakwater vessels are American ships from the Second World War that have been purchased by Catalyst's Powell River mill.
The ships, commonly known as 'hulks', range from 109 to 128 metres long and weigh between 6,000 to 8,000 tonnes.
In addition to creating marine habitat, the project has the potential to create a scuba diving tourist attraction in Powell River, according to the ARSBC.
"All the hulks, including the YOGN-82 have got a long, proud history as part of Powell River and its heritage," said Graham Kissack, Catalyst Paper's Vice President, Corporate Social Responsibility.
"We're excited to be working with the Artificial Reef Society to repurpose one of these hulks, which will create a valuable service moving forward in terms of an artificial reef. That's good for the community, and it's going to create a dive source."
The sinking of the YOGN-82 is scheduled for Saturday, June 23 between 11:00 a.m. and 12:00 p.m. The sinking can be seen from the Willingdon Beach area.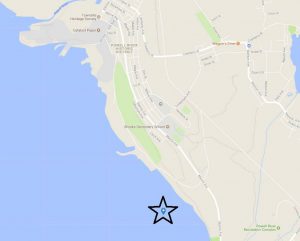 All watercraft are required to stay 1500 feet away from the hulk for safety reasons. Patrol vessels will be in the area to make sure rules are followed.
Once the sinking is completed, the command tugboat will sound 12 short whistle signals, followed by two-minute interval before a final warning signal.
Kissack said the YOGN-82 was damaged in a storm a few years ago.
"We started looking at the logistics of breaking it up and putting it into a landfill, and then one of the other opportunities that became apparent was turning it into an artificial reef and sinking it," he explained.
The area will stay closed to the public for about 36 to 48 hours after the sinking. Artificial Reef Society of BC divers will survey the area.
The project has received letters of endorsement from the Tla'amin Nation, Regional District of Powell River and the City of Powell River.
Approval has also been granted from the appropriate federal government agencies.
Photo caption: The YOGN-82 will be sunk on June 23, 2018. Photo courtesy the Artificial Reef Society of BC.