VANCOUVER, B.C- A Courtenay woman left quadriplegic in a serious car crash on Mission Hill is now fighting the provincial insurance agency for better care.
The crash was along the Old Island Highway in Courtenay on February 15. Shortly before noon, a silver four-door car traveling northbound spun off the road, and hit a tree at high speeds.
It had clipped another vehicle before the crash, which is believed to have led to the spin.
Both occupants of the vehicle were extracted by first responders, and flown to hospital via air ambulance. It took an hour to free the 26-year-old male driver, while the 25-year-old female passenger was removed from the vehicle first.
A family friend of Brennan Bourque, the man injured in the crash, later confirmed both his identity and that of his girlfriend, Emily Ferreira.
Both lived in Courtenay, and were on their way to a new apartment at the time of the incident. Bourque has since been released from hospital, while Ferreira has remained in Vancouver since the crash.
According to a lawsuit filed by Ferreira's lawyer Daniel Goodman in April, she sustained injuries to her spinal cord, leaving her a quadriplegic. She also suffered a collapsed lung, a shattered elbow, obstruction of breath requiring a tracheotomy, as well as continued anxiety, tension, and depression.
Ferreira launched the lawsuit against the Insurance Corporation of British Columbia (ICBC), after the agency denied her the use of an occupational therapist named Lana Malinowski.
The lawsuit's statement of claim indicates that Malinowski was retained on March 26, 2018, in order to assist with Ferreira's recovery.
The suit indicates that the therapist contacted ICBC's senior claims examiner, Dave Guymer, in both March and April to inform the agency that she was working with Ferreira.
On April 4, Guymer told Goodman that ICBC would be refusing to pay for occupational therapy unless Malinowski was replaced with an ICBC-approved occupational therapist.
The lawsuit indicates that a "legitimate basis" was not provided for the demand.
Ferreira is now looking for payment of occupational therapy, damages for a breach of insurance contract, costs of the legal action, "special or increased costs", and a declaration that she is insured and entitled to benefits.
Under the listing for the lawsuit's legal basis, it also states that ICBC has refused to provide disability benefits to Ferreira despite her being "totally disabled" from employment, as well as a refusal to reimburse her for medical and rehabilitation costs despite an ongoing need for medication and rehabilitation.
The lawsuit states that "the actions of the Defendant (ICBC) are highhanded, and in need of rebuke."
Reached on the phone, Goodman stated that the lawsuit is still ongoing, though he did not make any other comment.
A response to the civil claim filed by ICBC indicates that the agency is disagreeing with specific parts of Ferreira's suit, calling them "alleged facts".
Starting with her statement that she was insured at the time of the crash and had complied with the regulations of the insurance when it came to disability, medical, or rehabilitation benefits, ICBC denied those statements.
They also appeared to deny the information on her medical condition, and the fact mentioned in her civil suit that she is now disabled and will need medical or rehabilitation benefits. The timeline concerning the occupational therapist is also denied.
In an additional section of their response, ICBC states that the driver at the time of the crash was not legally permitted to operate a vehicle, and Ferreira had permitted them to drive her vehicle.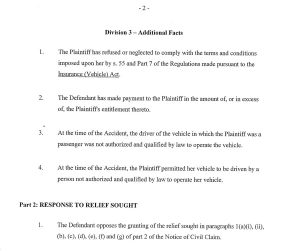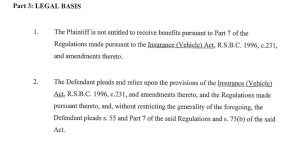 Towards the end of the ICBC response, it states that Ferreira is not entitled to benefits.
When asked for comment, a statement was provided by the agency.
"ICBC is aware of this claim," reads the statement.
"While it is currently under litigation, it would be inappropriate for us to provide a comment. ICBC has yet to conclude whether accident benefits may be available."
Bourque's family declined to comment for this story. A request for comment has been sent to Ferreira's family.
IMAGE CAPTION: Emergency crews work to extract a man from a wrecked vehicle along Highway 19a on Feb.15, 2018. Photo by James Wood/Vista Radio