POWELL RIVER, B.C. – A young Powell River-based soccer team fought hard, and it paid off.
The Powell River Energy Under-14 boys' rep team earned bronze at the provincial tournament this weekend.
The team's first game was last Thursday. It was a losing effort against South Burnaby.
Final score was 2-0. On Friday, the Energy beat Nelson 2-1 with goals from Griffin Leach and Jacob Duyvestyn (a penalty shot for the win).
Saturday's matchup against Prince George ended in a 0-0 draw. That put the Energy into the bronze medal game against the Vancouver KLM Mustangs on Sunday.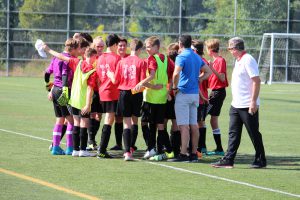 Marcus Cramb scored in the first half to make it 1-0 for Powell River. The second half saw no goals with tremendous defense from the Energy for the 1-0 victory.
Tony Leach and Dan Agius coach the team.
Powell River Villa alumni Willy Cooke and Duncan McDougall were on hand to sing the Villa's song following the Energy's bronze medal win.