CAMPBELL RIVER, B.C- A security company with the same name as an infamous international intelligence agency caused some confusion at sea this week.
On July 15th, the RV Martin Sheen, part of the Sea Shepherd Conservation Society, posted a video on their Facebook page, featuring marine biologist and activist Alexandra Morton. In the video, Morton said two boats had been following their vessel for days.
The video, titled "Marine Harvest Harassing Scientists and Sea Shepherd Crew", shows the boats in close proximity to the Martin Sheen.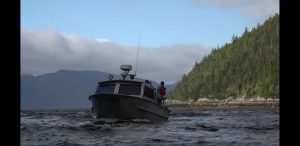 "What concerns me is the guys in the boats rented from Progressive Diesel in Port Mcneill with newly tinted black windows," said Morton.
"They refuse to tell us us who they are working for, though they put guys on every Marine Harvest Farm we sample at."
Shawn Hall, media spokesperson for the B.C Salmon Farmers Association, confirmed that the two boats were leased from Progressive Diesel by Marine Harvest.
Morton said she had been told that a company called Black Cube Strategy had been hiring in Campbell River, and referred to them as "ex-Israeli intelligence." But Hall said that the crews aboard the boats were hired from a "health and safety" company called CVI.
As it turns out, the two accounts are not so far apart.
According to Craig Peterson, director of Safety Net Security, Corrado Ventures Incorporated (CVI) is an umbrella company for Domcor and Safety Net Security, a company that operates out of Campbell River and various other locations across the country, offering "fully integrated security services".  
In June of this year, a business application was submitted to the city for "Black Cube Strategies and Consulting Ltd." by Peter Corrado, President and CEO of Safety Net and director of CVI.
City officials confirmed that the Black Cube business license was approved on July 3rd.
However, 'Black Cube' is also the trading name of BC Strategy Ltd., an international intelligence agency with headquarters in London and Tel Aviv. According to their website, they are a "select group of veterans from the Israeli elite intelligence units that specialises in tailored solutions to complex business and litigation challenges."
However, Peterson said they have "nothing to do" with the international Black Cube agency.
"The name is referring to the four pillars of a good, sound business model. It has zero, zero relationship to that Israeli Black Cube group," said Peterson.
Jeremy Dunn, media spokesperson for Marine Harvest, confirmed that the company was working with CVI, but wanted to be very clear that they "would not hire an international intelligence agency."