BULKLEY-NECHAKO, B.C – The trucks may have been told to leave, but a group of people are protesting their departure.
28 trucks of firefighting supplies were denied access across the ferry to the Southside of Francois Lake yesterday afternoon, around 70 km north of Burns Lake, where some residents are fighting wildfires themselves.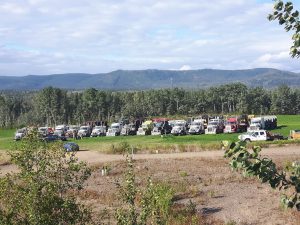 Two fires, Nadina Lake and Verdun, continue to burn at a combined 112,000 hectares in size, and roughly 100 residents of the area have stayed behind despite an evacuation order issued over a week ago.
According to Ginger Annette Moyah, as of 10:00 a.m this morning, around 30 people had arrived to Lakeview Mall on Highway 16 in Burns Lake, where dozens of trucks have been sitting for three days waiting to cross the lake into the evacuation zone.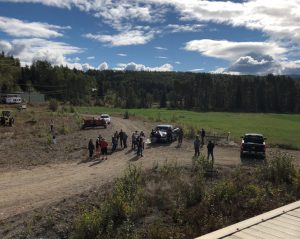 "I've got to help anyway I can. They're risking their lives, the least I can do is stand in front of a truck and not let it leave," said Moyah, who is at the scene.
She said one pickup truck is blocking an exit to the highway.
"We're trying to make forestry understand we aren't okay with this, they're the ones calling the shots."
According to a press release from the B.C Wildfire Service, it was decided between forestry and the contractor that the water suppression units that the trucks are carrying could not be hooked up to a sufficient water source.
"BC Wildfire Service deferred to to the contractor's knowledge of their system and it was determined that this high-capacity water delivery system was not an appropriate tool for this fire complex," they said in the release.  
We will be updating as information becomes available.