Written by Cole Kelly/99.7 2Day FM
BULKLEY-NECHAKO, B.C – The B.C Wildfire Service isn't giving any answers to claims that they released false information to the public.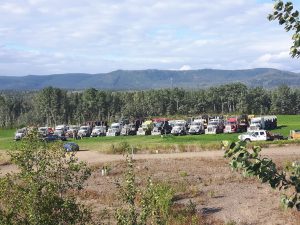 Residents were frustrated last month when dozens of vehicles deployed to the Verdun and Nadina Lake blazes left the area without using their fire fighting equipment. The owner of the fleet, contracted by BCWFS from a company called SafeGuard, said the service spread false information to the public regarding the reasons for that decision.  
The fires are part of what is being called the Babine Complex, a group of seven fires totalling over 100,000 hectares in size.
In August, some residents in the Bulkley-Nechako region at the south side of Francois Lake, known locally as 'Southside', stayed behind despite an evacuation order for the area. Many expressed anger over the "lack of support" from wildfire services, the province and the regional district.
Help looked like it was on the horizon when nearly 30 supply vehicles arrived in Burns Lake, about 70 km from Southside, carrying a "high-capacity water delivery system" late last month.
But on August 25th, a "protest line of over 150 people" watched as the trucks were "released" from their contract with the B.C Wildfire Service, and sent home.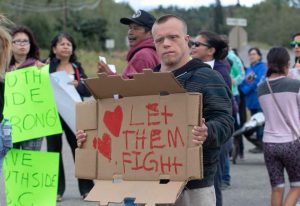 Not long after, BCWFS released a statement saying, among other things, that Jeff Kelly, owner and operator of SafeGuard, had deemed his equipment "not an appropriate tool" for the Babine fire complex.
Kelly, however, said that statement was "completely false".
"The release said this equipment was determined by SafeGuard to not be valid for the entire Babine complex of fires. It's not true. We only looked at one portion of one fire," he said.
"The day I arrived I was asked to go do an assessment. I was given a guided tour and the only one area they wanted to look at was an area with two ponds that were insufficient," he said.  
Kelly said he had given BCWFS three other viable options, but was limited without a helicopter to properly survey the area.
"We assessed two places on the north side of Francois Lake and one on the south side. But they (BCWFS) didn't feel the fire was threatening the north areas at the time," he said.
"I did request access to further areas for further deployment, and the BCWFS refused that request, they didn't give us any reasoning."  
The original press release said the equipment needed "relatively flat topography", which Kelly also disagreed with, part of the "many statements BCWFS has made that have turned out to be false."  
"We could have pumped a long way up hill, we can set up in very rugged terrain, we've put them in some pretty rough areas."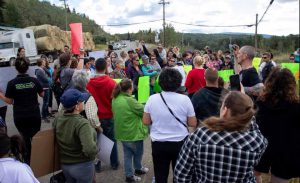 "We could have protected a lot of communities and a lot of homes. My staff and I were incredibly disappointed leaving that location, for me to diffuse a protest line of over 150 people; women, kids, families, who had homes over there or had family and were desperate," said Kelly.  
"You could see it in their eyes. For me to ask them to move over was hard and heart-wrenching on our crew."
Kelly said Pete Laing, a B.C Wildfire incident commander for the Babine Complex, spoke to him after the incident.
"My final conversation with Pete Laing was him on the phone encouraging me to back up his statement that my system wouldn't work in all of the Babine Complex," he said.  
"And I absolutely would not do that."  
Over email correspondence, Kevin Skrepnek, Chief Fire Information Officer for the BC Wildfire Service refused both an interview and comment on Kelly's allegations that the BCWFS had released false information to the public.