VANCOUVER ISLAND, B.C. – A beloved video game character is coming to the big screen, and Vancouver Islanders will notice some familiar sights when Sonic the Hedgehog hits theatres.
Production has begun on Vancouver Island for the film, with some work being done at two private residences in the Comox Valley.
"We've got what's called weather cover, so yes there are two locations in the Comox Valley that are private homes, and (crews) have done some b-roll at Shelter Point Distillery (in Oyster River) a week ago," said Joan Miller of the Vancouver Island North Film Commission.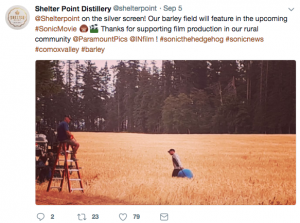 Miller said scenes are also being filmed along Highway 19 between Cook Creek Road and Horne Lake Road, but Mother Nature brought some troubles for crew members earlier this week.
"We're only on day two, and Mother Nature yesterday (Monday) made things a little difficult, so crews were careful and they were not filming at the pace that they would have liked if the weather was sunny, but they're continuing on, filming between weather breaks and hopefully by the end of the week, they're going to accomplish what they need to accomplish," Miller explained.
She noted that production is permitted to run through Friday, with two additional weather cover days.
"If they can't complete what they needed to complete because of the rain, then they will have discussions with the Ministry of Transportation to utilize the highway for an extra two days," she said.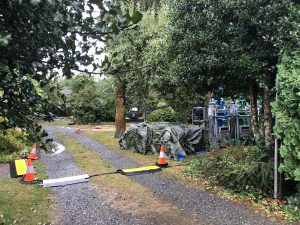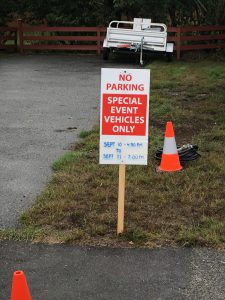 Miller added that once the highway production is completed, filming will move down to the town of Ladysmith.
"Ladysmith has become a main character in the storyline. There's been production crews in there for about a month and a half now doing a lot of painting and set design, so there will be four days of filming that take place down in the town of Ladysmith," she said.
Miller said that the production is slated to have an economic impact on Vancouver Island.
"We'll look forward to seeing the numbers once the production wraps, and we'll see what type of direct impact we have," she said.
"We do know for two weeks of filming, there's been months and months of preparation, so it was going to generate a lot of income to the communities that range right from Oyster River (Shelter Point) right through to Ladysmith. The general estimate right now is between 10 and 11-million dollars."
Miller thanked the public for their patience in taking the detour set up along Highway 19A while filming is taking place.
"We're getting a lot of comments from people saying they hadn't been on (the detour route) in a long time and forgot how beautiful it was, so people are really taking a deep breath, making sure they respect posted signs, keeping an eye for kids on the road and enjoying the fact that they get to see the waterfront route once again," she said.
Sonic the Hedgehog is directed by Jeff Fowler, and stars Jim Carrey, James Marsden, Ben Schwartz and Tika Sumpter. It's due to be released in 2019.
Photo caption: A home on Stewart Avenue in Courtenay used for filming. Photo by James Wood/Vista Radio.