POWELL RIVER, B.C- A family in Powell River had a close call in a house fire this morning.
According to Powell River Deputy Fire Chief Rocky Swanson, firefighters first responded to a report of smoke from a home along Willow Avenue around 9:30 a.m.
Upon arrival, they found a one storey duplex getting consumed by flame, with fire shooting out of all the windows and black smoke pouring from the building.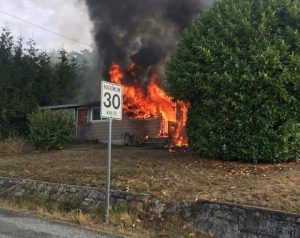 Two adults and one child who lived in the home were present at the time of the fire, along with a neighbour in the next unit. All four escaped, with the three taken to hospital for further observation.
"It was an incredibly close call," said Swanson.
"It was a extraordinarily hot fire. Total fire destruction on one side, where the family was staying. They're very, very fortunate to be out."
Two cats were also rescued, and firefighters are looking for a third. The family's home has been totally destroyed, and they will be taken care of by the Red Cross in the aftermath of the blaze.
The exact cause of the fire and it's origin point has not yet been determined.
Swanson also had words of praise for the emergency responders in Powell River, with all services arriving to the scene quickly.
"Everybody in town can be really proud of that," said Swanson.
"I mean that sincerely."