HORNBY ISLAND, B.C. – Kind-hearted people are rallying around the displaced students and staff of Hornby Island Community School.
The school suffered significant damage from a fire in the early morning hours of Aug. 26. Fire doors managed to stop the flames from spreading to the other two-thirds of the building, but the school office, gym, front entrance, bathrooms, mechanical rooms, electrical rooms, and staff room were destroyed.
News of the fire, and the students and staff displaced from it, sparked an outpouring of support across the Comox Valley – and beyond.
On the Mainland, a teacher and her Grade 2/3 class from Maple Ridge's Glenwood Elementary sent a package full of new books to the students.
Closer to home, Ecole Puntledge Park Elementary Grade 1 student Harvey Quenneville-Strzalkowski organized an ice cream and popsicle sale on Sept. 7 to help "build a new school." The event raised $240 for the cause.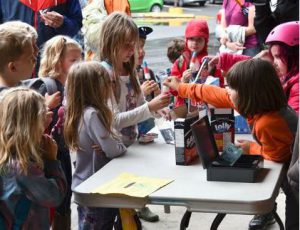 And the Thrifty Foods location at 17th Street in Courtenay hosted a Friday afternoon fundraising blitz on Sept. 14, where shoppers who donated money at the till had their names entered into a draw for a $200 gift certificate.
"We are learning piece by piece and act by act just how much community effort and acts of kindness and support has been given in terms of donating supplies, to raising money… each and every day another organization or another group of individuals will step up and find another way to raise money to support the cause," School District 71 communications manager Mary Lee said.
Many of these fundraising initiatives are being done on each individual group's own accord which, Lee said, "is quite tremendous."
Lee related that Hornby Island vice principal Alissa Pratt has expressed how "unbelievably blown away she has been with all the acts of kindness in the community."
"There has been a real response in the community to fill a need," Lee said. "Everyone wants to feel like they need to do something, they want to do something."
Lee said the fundraiser at Ecole Puntledge Park Elementary has started a domino effect of similar events.
"Other schools are doing it, with having cold treat sales after school with all funds going to help the Hornby Island Community School students," she noted.
Weighing options
With their school deemed unsafe for the time being, Hornby Island Community students are now starting the year at two locations: Room to Grow and the local community centre.
Looking ahead, the Hornby Island students will remain off-site as the school district weighs its options.
Lee said the district is considering portables, "but these are plans that will evolve over the course of time. But longer term still (the school building) is under investigation with the appraisers to learn the extent of the damage, to determine (if) it can be renovated."