BLACK CREEK, B.C. – On September 29th, people at Vancouver Island's Saratoga Speedway witnessed a scary incident.
41-year-old Jonathan Sedman was pinned underneath a car that had flipped off the racetrack. He was rushed to Vancouver General Hospital with severe injuries, including a ruptured bladder, broken hip and cracked ribs, according to a GoFundMe page set up to help in his recovery.
Sedman was at the track setting up a fireworks display. Him and his father own and operate Celebration Fireworks.
Saratoga is and has been doing its part to help. The speedway is hosting a fundraising night for Sedman and his family, including his newborn son, this Saturday, October 20th.
Saratoga's owner and operator Paul Hargraves said Sedman's baby was born the day after the accident. He's since been able to meet his newborn.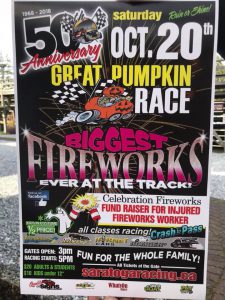 "It really is nice to see that he is doing a lot better. I was in touch with his sister on (Sunday) and they have removed all the IV tubes and all the feeding tubes. He's now working on physiotherapy to get some movement back into his hips again, and he's got feeling in all his limbs," Hargraves said.
"He's talking and he sounds just great and he's been connecting with his baby."
Hargraves said he's been in touch with the family every day since the accident, and Sedman's father will help set up a fireworks show during the fundraising event.
"He said it's going to be a difficult time for him, but he's doing it because that's what Jon would want him to do," he said.
SAFETY AT THE SPEEDWAY
Hargraves touched on the location of where fireworks are set up.
"This was our 46th show with Jonathan, Neil and the Celebration Fireworks team. They've done all of our fireworks here since 2002. We had the fireworks set out where we've been doing them for a number of years," he said.
"It was a whole series of factors that lead up to the accident."
Hargraves said since the incident, the fireworks setup area has been placed about 60 feet from the racetrack.
He remained optimistic and excited about this Saturday's fundraising event.
"This is a play day for our race cars to come out and just have some fun, and support Jonathan and his family, and to partake in our pumpkin race," he said.
Gates will open at 3:00 p.m. with the first race starting at 5:00 p.m. Hargraves said the event should wrap up at around 8:00 p.m.
All kids attending wearing a Halloween costume will get in for half price.
"We just want to make it a real good family event like what we're used to up at the racetrack," he added.
"I also want to remind everybody to get out and vote, and then come to the races."
For more details on the Sedman fundraising event, visit Saratoga Speedway's website at saratogaracing.ca.
100 per cent of the net proceeds will go towards helping Sedman and his recovery.