POWELL RIVER, B.C. – Townsite Brewing has won a special award.
The Powell River-based craft brewery has been awarded The BC Ale Trail's inaugural Best Experience award for 2018.
The BC Ale Trail is an initiative started by the BC Craft Brewers' Guild, aimed at connected local breweries with tourism organizations across British Columbia.
Townsite Brewing won the Best Experience award following an online campaign that ran throughout October and November.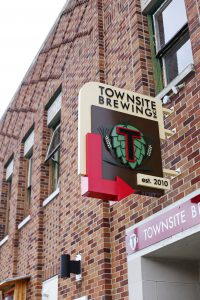 The brewery, located along the Sunshine Coast Ale Trail, opened in 2012. According to a release from The BC Ale Trail, Townsite is the province's only Economusée.
"This program aims to promote and conserve the heritage of traditional skills by showcasing artisans at work. Townsite's public entrance and tasting room features exhibits and displays explaining the brewing process, along with details like how to pick the right glass for different beer styles, and a biography of Cédric Dauchot, all in both English and French," reads the release.
"We certainly feel that we provide the whole package, in terms of great beer, plus great atmosphere. It feels good to know that someone else thinks that too," said Chloe Smith, Townsite's general manager, in the release.
Since opening, Townsite has released more than 45 different beers.
"Townsite Brewing is one of my favourite places to visit on the BC Ale Trail. I love the tasting room, and I really admire the high standard of quality and creativity they put into all their beers. The brewery itself is well worth the trip to Powell River, which is such an interesting and welcoming community," said Joe Wiebe, Director of Content for the BC Ale Trail.
Townsite also donates $1 from every growler filled to a local charity in the Powell River community, with an average of $9,000 in annual donations.