COURTENAY, B.C. – A thief has left a hole in Matthew Cadwell's life.
The 22-year-old lost his only mode of transport on Monday morning when a thief stole his $4,000 electric bike from outside the local White Spot, where he works as a dishwasher.
The bike was locked up but someone broke the padlock, which was later found by a 7-Eleven store.
Matthew has special needs and will never drive, so the bike was the only way he can get around.
"I was shocked," Matthew said. "I was kind of angry because it's my bike. It's my transportation from home to work and I was really angry."
Matthew's dad Mike said it's a specialized, customized bike built for his son. Matthew tirelessly saved for the bike and in a moment, all of his savings, and his way of getting around town, was taken from him.
"The money he earned as a dishwasher, he spent it and paid for it (the bike) all on his own," Mike said.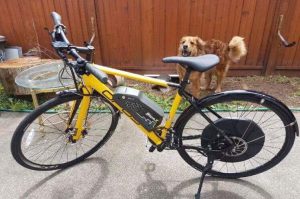 Matthew usually peeked outside the restaurant to make sure his bike is secure.
"And when I did check it, it was gone," he said. "I had it all locked up and everything."
"It's really hard. I can't get it back. It's gone. Four-thousand dollars down the drain, pretty much."
The 'taxi-yellow' bike is a BionX brand which, Mike said, "is very customized. Customized spokes, rims, everything… it's his life."
Matthew said he can walk, but "it takes too long" to get around town.
"I can't drive 'cause I'm special," Matthew said.
Mike added, "He's special needs, so he bought that to get around, to go to his job, go to his work, go visit his friends, and somebody took that away from him."
There is a police file on the theft and Mike hopes more attention will help his son get his bike back.
"We just want it back," Mike said.
If you know the whereabouts of Matthew's bike, call Comox Valley RCMP at 250-338-1321 or message Mike through Facebook.