The Rural BC Party is starting to build its base and plans to run candidates in 23 rural B.C. ridings, including the Mid Island Pacific Rim, the North Island and the Sunshine Coast.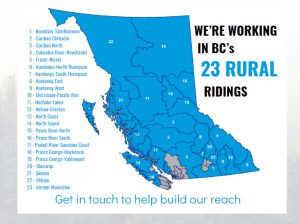 Jonathan Van Barneveld, interim party leader and current councillor with the District of Houston, said the party was founded in response to the growing concern that existing major political parties are solely interested in supporting the voter-rich areas of the Lower Mainland and Southern Vancouver Island.
He said members of the party feel that the Northern and rural areas of the province have basicially been on the backburner and their issues never really seem to rise to the top.
Van Barneveld said the party will have some core policies, but each MLA would focus on representing their local consitutents interests rather than follow a party line.
That's because, Van Berneveld said, there are plenty of differences between what one rural area would want, like in the Peace versus what an MLA's constituents on the North Island might consider a priority.