BUCKLEY BAY, B.C. – Electric vehicle drivers take note: two superchargers and a level two station are being installed at the Buckley Bay rest stop.
These new charging stations add to existing public stations in Union Bay (Credit Union), Denman (Hall), and Hornby (Credit Union/HICEEC).
This is particularly good news for CVRD Area A director Daniel Arbour, who is a strong advocate to shifting to electric.
"From my understanding, last year the province revamped their charging infrastructure strategy for B.C.," said Arbour, an electric vehicle driver.
"And for those of us who have been watching, charging infrastructure on the North Island had been lacking for a while. So when they look at opportunities to expand the range for electric vehicles, we were actually included in this year's strategy."
The province announced in July that it was adding 11 new public electric vehicle (EV) charging stations added to highway rest areas throughout the province.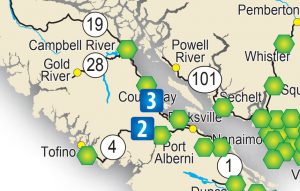 Eight of the new locations will be fast charging, with two stations per site, allowing drivers to charge up in 30 minutes or less.
The other three will provide Level 2 stations, supplying 240 volts of power, as part of the Accelerate Kootenays EV charging network coordinated by the Community Energy Association.
Arbour said the Buckley Bay station is "built and should be turned on any day."
"For people driving north of Nanaimo, (this) allows them a natural stop if they are going to Courtenay, Campbell River and beyond," he added.
Arbour said the numbers show that more people are going electric.
He noted that "2018 is really the year when we're seeing the breakthrough in electric vehicle sales."
Year over year, nearly 35,000 plug-in electric vehicles have been sold in Canada by the end of September, an increase of 158 percent compared to this time last year. And in the third quarter, sales peaked at over 13,000 EVs, a 166 percent increase over the same period last year.
At current rates, Canada will see more electric vehicles (EVs) sold across the country in 2018 than the previous three years, combined, and the electric portion of new passenger car sales has risen to 8.3 percent for all of Canada.
"Those are massive jumps and we're seeing that across Canada," Arbour said. "For a long time we were sitting at one, two, three percent market share but you can tell that something's really happening in the marketplace and the adoption is increasing."
So why go electric?
"The more you see gas prices kind of stay up… it costs me about a dollar a day to run my car, and so for people who have a gas car, that brings attention to it, for sure," Arbour said.
He added that for most electric vehicle owners, 90 to 95 percent of their charging will be done at home, overnight, so the charging infrastructure is most important for people who travel long distances, for example, from Victoria to the Comox Valley.