SECHELT, B.C.- Ferry users on the Sunshine Coast will see a change in the schedule starting today.
According to a statement on the Northern Sunshine Coast Ferry Advisory Committee's Facebook page, due to some complaints from travelers on the move from Horseshoe Bay to Earls Cove, BC Ferries has slightly shifted one of its sailing times on the Earls Cove-Powell River route.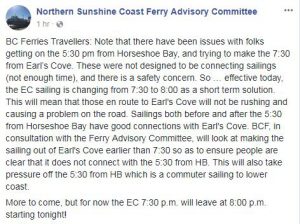 The 7:30 p.m. sailing will now leave Earls Cove at 8:00 p.m.
Residents catching the 5:30 p.m. sailing from Horseshoe Bay (Vancouver) to Langdale will more easily be able to make their connection to Powell River with the new 8:00 p.m. sailing out of Earls Cove.
The committee's statement read that those en route to Earls Cove will not be rushing from the Langdale terminal and causing any problems on the road.
According to BC Ferries' website, the schedule change will be in effect until at least February 5th, 2018.