POWELL RIVER, BC- Recreational services in the city could be seeing some major cuts.
Powell River's Finance Committee meets tomorrow, and budget cuts at the rec complex are an item in the 2018-2022 budget.
Councilor CaroleAnn Leishman is not happy about this, referring to the cuts as "bullsh*t" in a post on her personal Facebook page.
"There's a big push to get our rural electoral areas on board with paying towards the complex, because currently everyone in the region does not contribute towards operation and maintenance," she said, speaking with 95.7 Coast FM on Wednesday.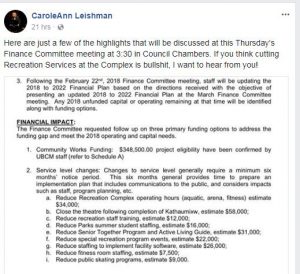 Services and maintenance at the complex are currently covered through taxation from residents of the city of Powell River. Citizens outside the actual city, but in rural areas in the Powell River Regional District, do not pay any taxes towards the complex.
"There is a push to kind of show that that's happening and there is an inequity with recreation, so they're suggesting that we make cuts, but making cuts hurts everyone and hurts the system."
Suggested cuts from the city budget for the facility include staff hours, training and reductions to offered programs, according to the Finance Committee's five-year plan.
She said that the recreation complex is seen by some as "the least important service in terms of what a municipality provides", but that many people do in fact use the facility on a regular basis.
"There is this suggestion that it's not fair that only city residents contribute through taxation towards operations and maintenance, we should be getting the rural residents on board as well," she explained.
When asked about alternative measures to help save cuts to recreation, Leishman suggested a staffing management review.
"I think some of the other areas of the city should be looked at (for cuts) and if we did a more holistic approach, we could probably come up with a better solution. We may need to see another one per cent increase on to what we're looking at already," she said.
"People hate having their taxes raised but we have a lot of amazing services in Powell River, and unfortunately we have to pay for those, so I am probably going to suggest that we go to a three per cent tax increase, instead of two."
Leishman said that if this does happen, staff at the complex would get a six month notice that their position is being cut or their hours are being reduced.
"There are so many programs offered through the recreation complex that are so imperative to our community and keep us moving forward in the direction that we have been striving for," she said.
"To cut those hours or cut any services there makes no sense, because we are then limiting our ability to also collect revenue and provide those services, so it just makes no sense to me."
Leishman noted that she's spoken with residents about this, and the general consensus is that cutting these services is a bad idea. She has also spoken with people who live in the rural electoral areas.
"They either thought they paid for the complex through their taxes, or they say they would be more than happy to contribute through their taxes to the recreation complex," she said.
"We need to get the rural electoral directors to agree to have a referendum in October and then we need to make sure that those citizens get out and vote in favour of that, so that there is a fair and equitable solution for our region."
Powell River mayor Dave Formosa said the city's budget is short by about $250,000 to $300,000.
"It's a major issue for us, it's a large facility, we're proud of it but it is getting older, it was built in the 1970's and the citizens of the city of Powell River carry all that weight."
Leishman said the city is looking to cut $215,000 in service level changes at the rec complex, but also use funding through the community works fund to assist with repairs at the facility.
"They're looking at a shift to pull that money out of our community works fund, which is a reserve fund that we get gas tax money through the federal government," Leishman said.
"We think we can tackle some of those capital projects (repairs) through the community works fund potentially, but that's on top of service cuts, which come out to about $215,000."
Leishman said residents with concerns or opinions should contact mayor and council.
She added that those living in the electoral areas of the Powell River RD outside of the city should contact their regional directors, and voice support for paying for the complex through taxation.
The finance meeting takes place Thursday at 3:30 p.m. in Council Chambers.