Microgreens: Miracle or Myth?
You certainly know what a vegetable is. But a term you might not be familiar with is "microgreen." Touted as a superfood you can grow at home, microgreens are simply young vegetable greens – the seedlings of veggies and herbs – that are about 1 to 3 inches tall. You've probably seen them adorned atop your meal at a fine dining establishment. But they're certainly much more than a stylish garnish. Somewhere between a baby green and a sprout, they are most often considered a baby plant and are great for salads. Below you'll discover just why the term microgreen is most likely going to become a consistent part of your vocabulary.
Types of Microgreens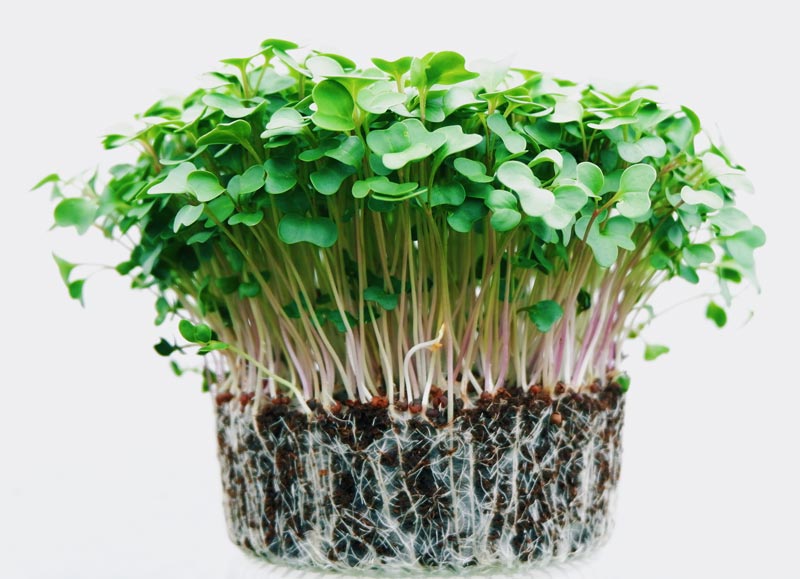 Now that you have a bit of an idea what a micro-green is, let's get into some examples. Since microgreens are just the seedling stage of a regular vegetable, herb, or edible flower – all of those plants are microgreens if harvested at the right time. To get started, it's as simple as picking up seeds from Mother Nature. These are some of the most popular microgreens to grow from seed at home:
Peas
Arugula
Sunflower
Beet
Broccoli
And many more!
Bursting With Flavour
Microgreens may be small, but they're big on flavour. Featuring an intense and complex profile, these aromatic greens are more flavourful than sprouts and contain more nutrients than regular greens. Many microgreens are herbs which contributes to the strong flavour; however, the leafy vegetable varieties also produce fascinating flavours when small. Some can be sweeter, others can have a peppery taste, and for variation they all can act as an additional seasoning adding some pop to your meal.
Nutrient Dense Little Vegetables
While the nutrient levels in different microgreens varies, they do carry a more concentrated source of vitamins and minerals. Nutrient levels are often much greater than those in mature greens, packing a significant amount of nutrients into their small size. Plants contain many beneficial compounds such as:
Antioxidants
Potassium
Iron
Zinc
Magnesium
Copper
In microgreens, these compounds are concentrated, meaning that nutrient levels can be multiple times higher than other plant sources.
What To Do With Them
Microgreens are starting to sound pretty good, right? But now the big question – what do you do with them? The answer is a lot. You can mix them into salads and pile them onto sandwiches. You can garnish your special meals with them for an elegant, nutritional, and flavourful touch. You can even add them to your smoothies! Anything you can imagine – you can do. So have fun finding new ways to incorporate microgreens into your meals.
Low Cost – Big Benefits
While microgreens may seem like the latest food trend, their biggest value is in being able to grow your own food. These little veggies can be grown inside, taking up very little space while allowing you to take more ownership of the food you eat. You can be proud that you grew it yourself while adding a healthy food source into your life. For the very small cost of seed you'll gain so much more.
So. Microgreens. Miracle or myth? You probably know the answer by now. Try growing some and see it for yourself. Mother Nature has all the seeds and supplies you need to get started as well as the expertise to help you on your way. Come in today and ask them about how to get started with microgreens… and grow with them at Mother Nature.

Mother Nature
7050 Duncan Street
Mon – Sat 9:30 AM – 5:30 PM
Sun 11:00 AM – 4:00 PM
www.mother-nature.ca
---