The qathet region has a few firsts under its belt; first credit union, first pulp mill and in 2020 we also took the title of having Canada's first ocean plastic depot. Since this depot open its doors it's diverted just over 85,000kgs of various forms of plastic marine debris. The number one item we see coming in is flotation foam from docks and aquaculture infrastructure. View the full list of all that we can accept and what is commonly found that is not accepted.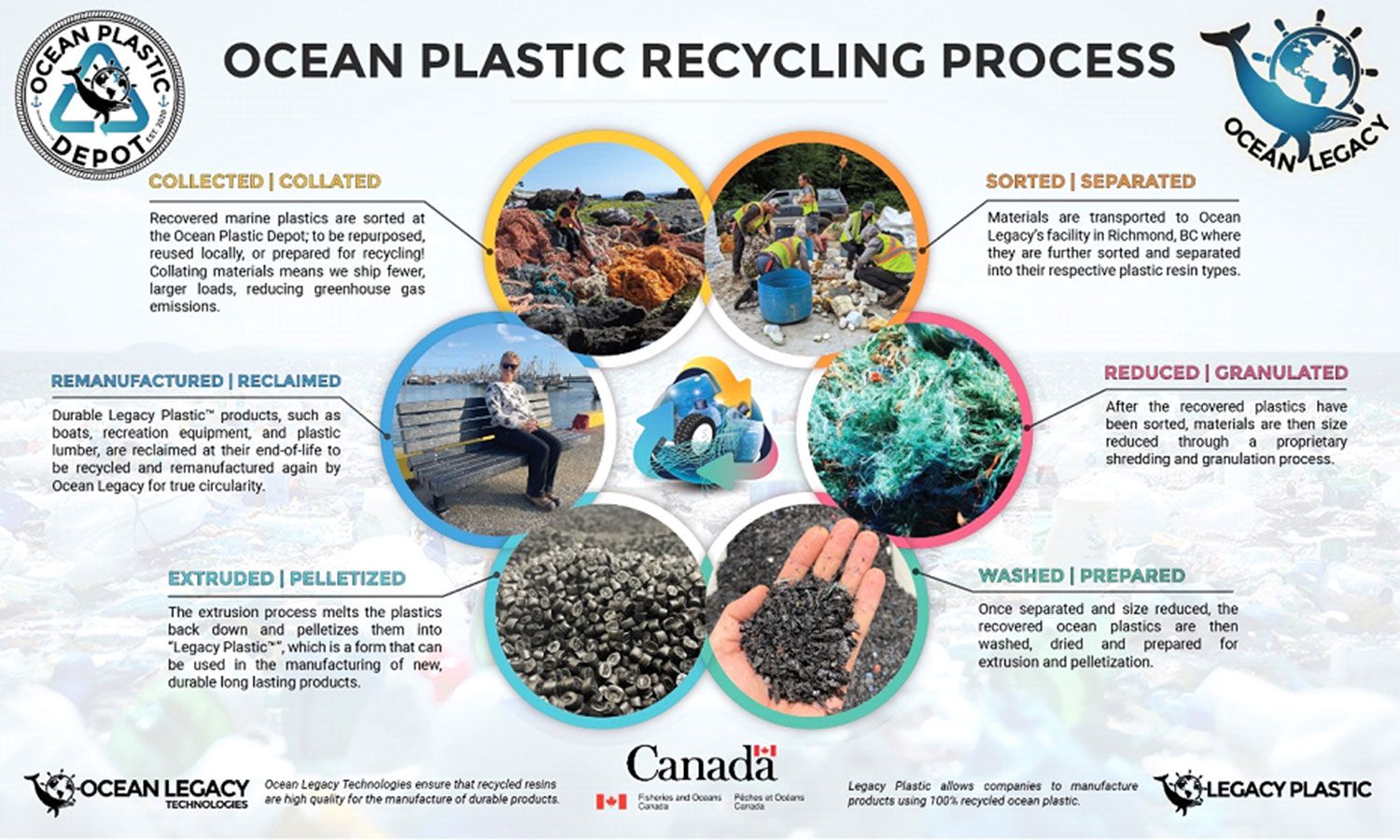 If you're interested in picking up marine debris this summer, you'll need to schedule an orientation at the depot by emailing [email protected]. Feel free to bring a load of material to your orientation, especially any questionable items! The orientation is usually a quick 15 minutes to walk you through how to access the depot, how material is organized and what to do once a bag is full. The depot is easy to spot once you're at Augusta Recyclers, look for the large mural of a spider crab that adorns the one side of the depot.
All of the material that is collected at the depot is shipped to the Ocean Legacy Plastic Pollution Emergency Response Facility in Richmond, BC where the rope and hard plastics are processed into pellets which are then manufactured into non-structural lumber that is made from 100% recovered marine debris! The vast amount of foam that comes in is processed by a third party recycler.
Zero Waste Events
Summer festivities often mean more parties, weddings, and festivals. These can be great opportunities to relax, but also times we generate more garbage than we mean to. Planning ahead makes all the difference in reducing our impact. Events big or small can take advantage of the qathet Regional District's Zero Waste Event equipment! From Zero Waste Stations to dishware and utensils, these assets can help divert material from the garbage and aim to reduce single-use items. This equipment can all be signed out free of charge and simply requires a sign out form to be completed and a damage deposit of $50 issued to the qRD.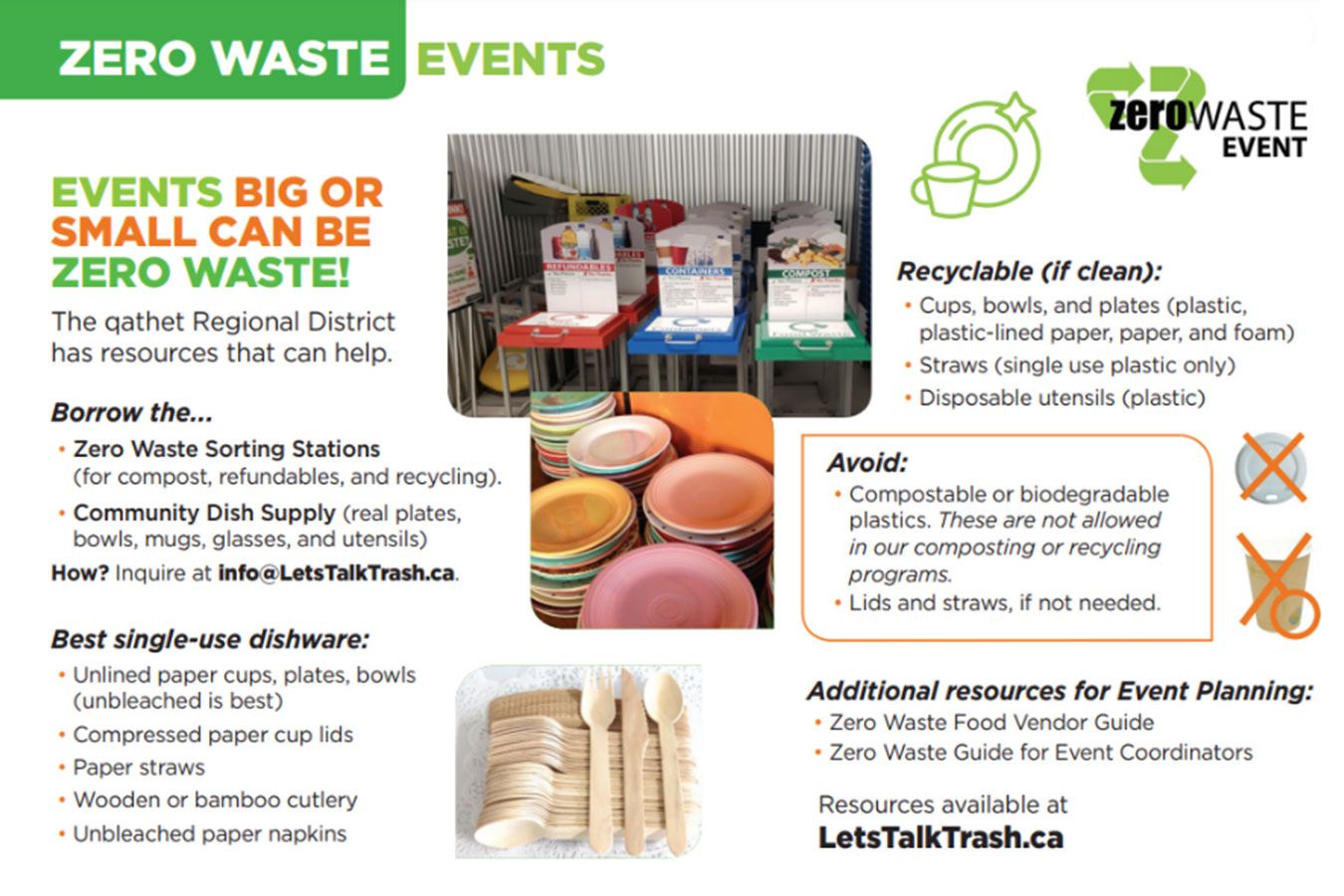 On behalf of the qRD, Let's Talk Trash has organized multiple sets of Zero Waste Stations that are ready to be loaned out. Each set has a collection for compost, refundables and containers. The collected material can all be delivered to the Town Centre Recycling Depot. By targeting these specific categories, events can greatly reduce the amount of waste generated. At larger gatherings, having a station monitor available to help guests place items in the correct bins is helpful.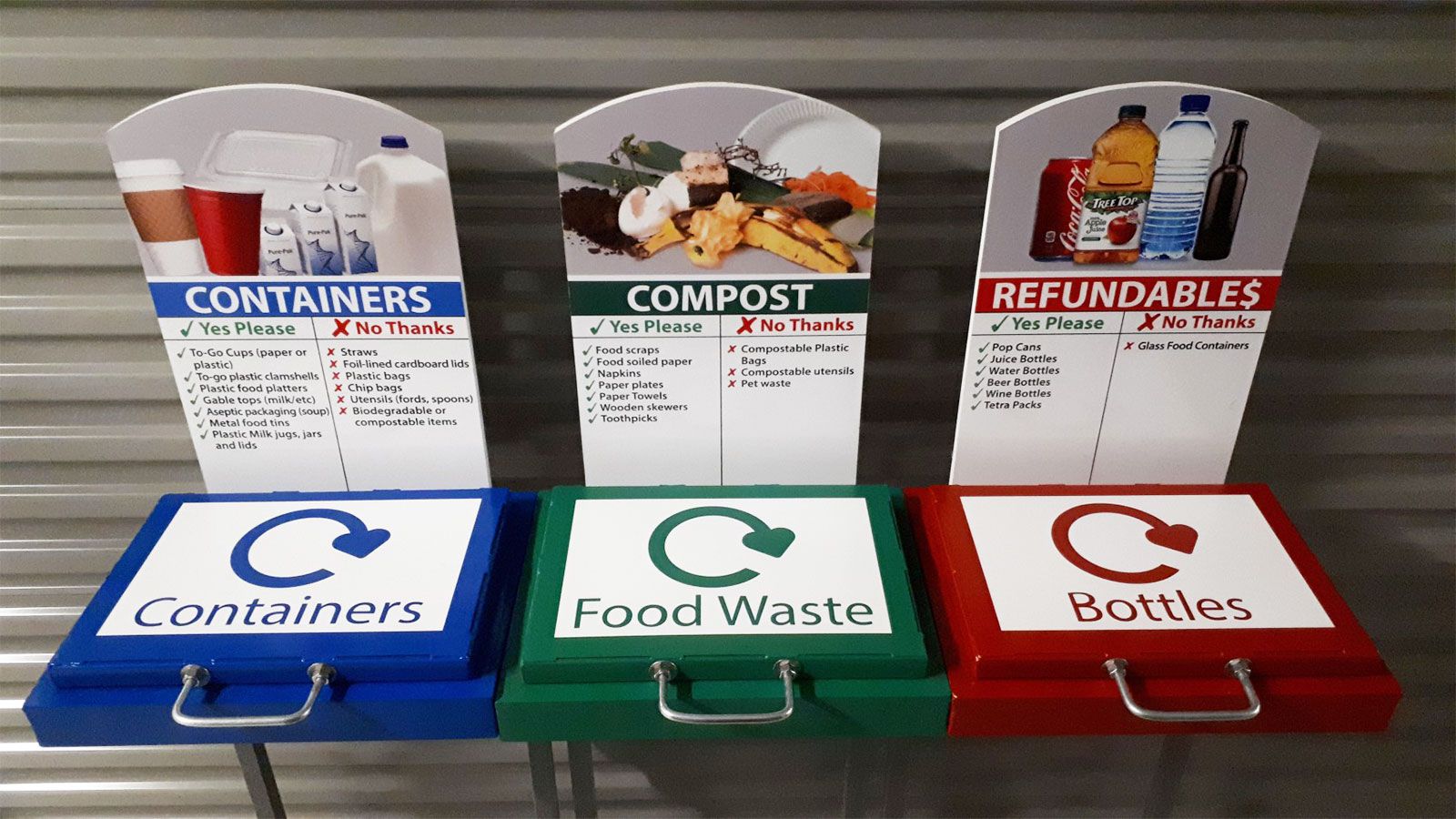 Feeling inspired? Check out Let's Talk Trash's Event Planning webpage. Here you'll find the equipment sign out form and a Zero Waste Guide for Event Coordinators and Food
Resource Recovery Centre Update
Big changes are taking shape at the Resource Recovery Centre! A new access road now leads into the site where foundations are being poured and building construction is underway.

The site will have a free side that houses a recycling centre building with all available Extended Responsibility Programs (packaging and paper, lights, batteries, appliances, used oil, paints, etc.) as well as a space for workshops and a free store. The pay side has a scale house, site office, diversion area to set aside reusable items, recycling and waste bins and bunkers, and an enclosed transfer station building for garbage and organics.

Sustainable practices continue to drive this phase of construction through the reuse and recycling of available materials onsite. This includes the repurposing of wood to build concrete forms, using locally milled wood from the site in the buildings and collecting wood offcuts for a local social enterprise. The construction schedule is on track with an anticipated opening to the public in the summer of 2024.
---


Website: www.qathet.ca
---