In 2021, the qathet Regional District (qRD) launched the new Regional Community Notification System. Since the launch, the qRD has continued to promote the system, and encourage the public to register for vital notifications. The Community Notification System can rapidly circulate critical safety information to help our community stay up-to-date in the event of an emergency.
The Regional Community Notification System allows the qathet Regional Emergency Operations Centre to send voice messages to phones as well as text messages and emails.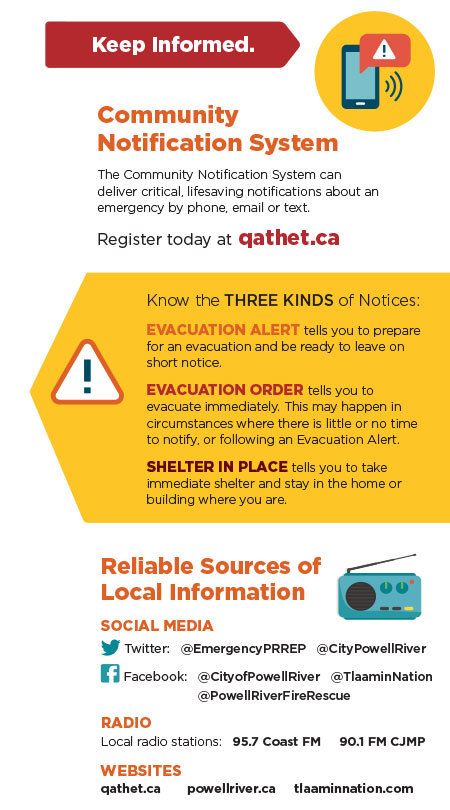 The Community Notification System service is free of charge however; residents must register for the system in order to receive notifications.
Each year the Regional Emergency Operations Centre conducts tests of the Community Notification System. The tests are typically in May during Emergency Preparedness Week and in November. More tests of the System may be scheduled throughout the year.
The Community Notification System strengthens the Regional Emergency Program officials' ability to communicate with residents when it matters most. This service allows for critical communication with the public and provides individuals with the information needed to stay safe or take precautions during hazardous situations.
To register for the Community Notification System, visit qathet.ca/emergency-preparedness, and click the "Enroll Here" button. You will be directed to fill out a registration form. Please contact [email protected] or call 604-485-2260 for more information.
Emergency preparedness is essential and a key component in protecting lives and property. To help our community stay aware and be prepared, we encourage all residents to register for regional community notifications. To learn more about emergency preparedness, please visit qathet.ca.
The qathet Community Notification System is a localized system specific for the qathet region and is not affiliated with the Provincial Alert System. As required by the CRTC, the Alert Ready system will take precedence over notifications you receive from qathet Regional District.
---


Website: www.qathet.ca
---